I4A Email Campaign Manager
We've made it simpler and easier to email and engage your members! The new I4A Email Campaign Manager is included with I4A-Membership and I4A-Enterprise. This provides you with a stem to stern wizard that walks you through the process of creating an email campaign, simplifies the selection of your campaign recipients, and includes an easy-to-use template builder for creating your email messages without needing to know any HTML code. Plus, we've improved the email campaign statistics.
Email campaigns are INCLUDED in your MEMBERSHIP or ENTERPRISE license.
No additional cost.
No limit on the number of emails or email campaigns.
No separate data bases to maintain, or information to export.
Instant access to your absolutely most up-to-date information.
Email Campaigns are totally integrated with your database. Access ANY data. Ask ANY question. Combine databases such as membership, meeting registrations, store sales, in any combination.
Your campaign will immediately access the database at the moment it goes out. This way the campaign is based on the absolute, latest, up-to-date information.
Your campaign knows what day it is allowing you to re-use a single campaign on a recurring schedule. For example: assuming some portion of your membership expires each month and you want to send a notice to those expiring within 30 days, you need only one campaign scheduled to go out monthly. The system knows what today's date is and will automatically calculate the correct time frame. Campaigns can be scheduled in advance for a fixed future date, or a future recurring schedule.

UNIQUE TO I4A-ENTERPRISE
In addition to including the new Email Campaign Manager, I4A-Enterprise allows you to also perform follow-on campaigns to your original campaign. With a few clicks you can re-send the campaign to those who did NOT open the original campaign. You can send new campaigns to those that did open. You can also download a list of the recipients that opened or did not open the email.
I4A-Enterprise also tracks the unique recipients that may have clicked on any particular link or any number of links in your email campaign. These detailed statistics show you all of the links that were clicked in your email campaign, ranked by popularity. Again, you can follow up with recipients who clicked on a link by simply clicking on the "Email" icon next to the link to initiate a new email campaign to those recipients and you can download the detailed listing of individuals who clicked on each link of the campaign.
Email Campaign Manager
The opening Email Campaign Manager page allows you to view campaigns that are Sent, In Progress, Scheduled, Drafts or have been Archived.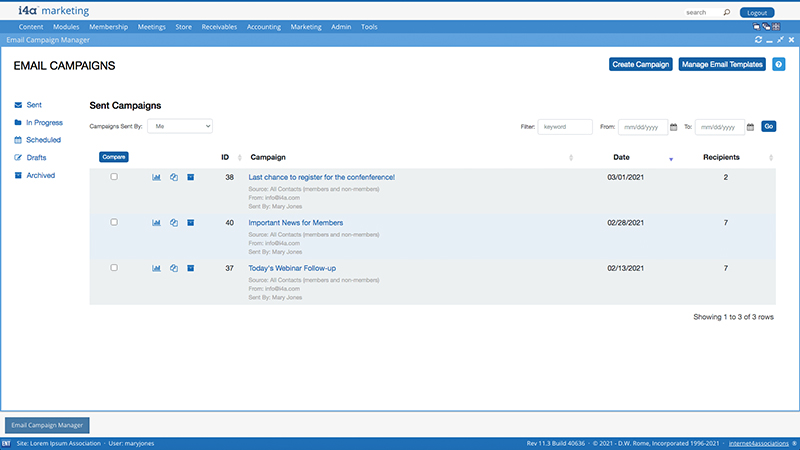 Email Campaign Wizard
The email campaign wizard includes a progress bar at the top enumerating which stage of the process you are in:
Selecting Recipients, Overall Settings, Creating Your Message, Reviewing the campaign and Sending or Scheduling the campaign.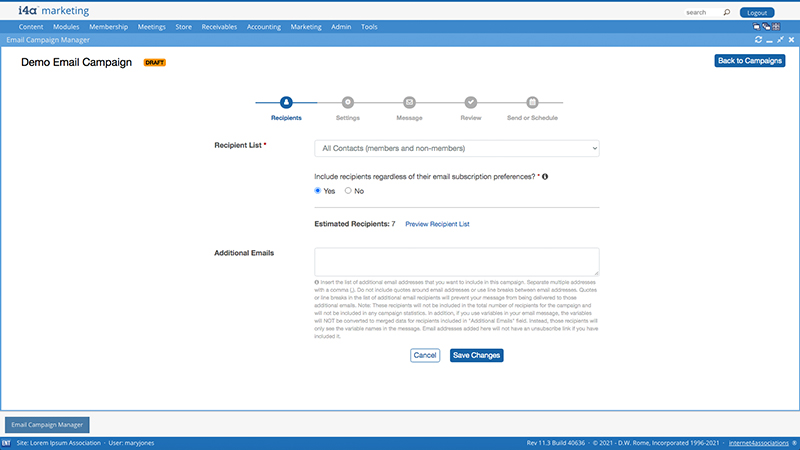 When creating a campaign, you can now select from several predefined recipient lists directly from the Email Campaign Manager as well as use custom recipients lists built with Report Builder if you need to further segment your recipients.

The predefined recipient list options in the Email Campaign Manager include:
All Contacts (members and non-members)
Contacts by Contact Type
Contacts by Messaging Type – i.e., your existing opt-in email campaigns
Current Members
Current Members by Member Type
Meeting Registrants
Meeting Non-Registrants – you select the meeting
Members Expiring Within the Next X Days
Members Lapsed Within the Past X days
Members Who Have Joined Within the Last X Days
When defining your recipient list, you will be provided a quick estimate of the number of recipients and a preview of the first 50 records.

Template Builder
Included in the Campaign Wizard is an entirely new, drag-and-drop template builder that allows you to create an email message without knowing any HTML.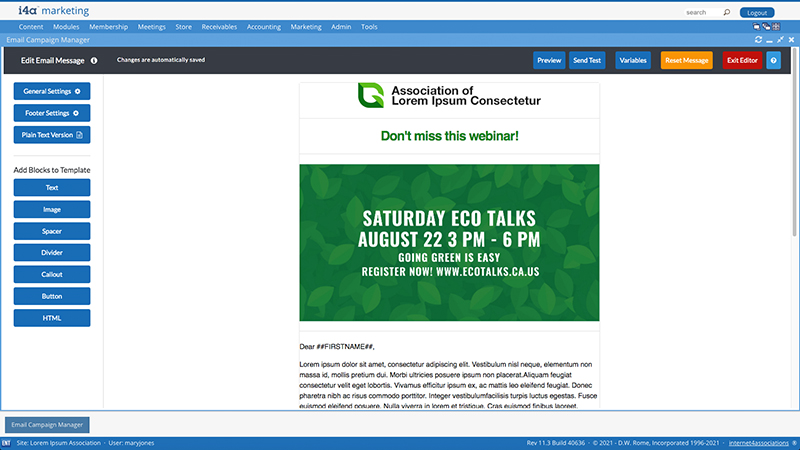 The Campaign Wizard includes a library of stock templates which you can edit and customize for your email campaign. The Email Campaign Manager also allows you to create and save your own templates to the template library for use with any email campaign. You can create a template using custom HTML, using the template builder or by selecting one of your recent email campaigns. The template builder gives you straightforward options to add text, images, spacers, dividers, headline text, call-to-action buttons and HTML elements to the template. You can also personalize your campaign messages with variables which now have a one-click-copy function that makes it easier to use the variables within any text block of your email message.
We've also added the ability for you to store the URLs for your social media sites (Facebook, Twitter, LinkedIn, Instagram and YouTube) and add them to the footer of your email template in a variety of graphic formats.
Finally, when you are done choosing your recipients, adding your settings and creating your message, there is a review page that allows you to review all of your email campaign settings, preview the email message, send a test email and edit any section of the campaign. Once you are done creating your campaign, you can save it as a draft to work on later, send it right away, or schedule the campaign to be sent out in the future with the option to automatically send out the same campaign on a daily, weekly, or monthly basis, with or without an end date.

Campaign Stats
Your campaign stats now show the total number of unique recipients, opens and clicks for the campaign as well as the number of people who unsubscribed and the number of people who never opened your email campaign. The unique count reflects that an individual will only be counted once, regardless of how many times they may have opened a message or clicked on a link within the message. You can also compare the open, click-through and unsubscribe rates of multiple emails campaigns with our new "Compare" feature.