FULLY RESPONSIVE THEMES THAT CAN BE AFFORDABLY DROPPED ONTO YOUR SITE AND CUSTOMIZED TO YOUR NEEDS.
Internet4associations introduces five new families of design themes. Each family has it's own emphasis to help you tailor your site's appeal to the audience you are most focused on. Each family has a home page design and a complimentary internal page design. These modern themes can be dropped into your site and customized by yourself or us quickly and inexpensively. Add your logo, color scheme and copy. Or, use them as a jumping off point for your custom design. The sample images and graphics are included royalty free, so if you would like - you can use them.
Magazine Format is conceived to conjure up the design of modern online magazines. With bold images and corresponding copy organized in strong coordinated blocks in a columnar format. Topped with a no margin "hero" image that can be linked to content followed by three columns. Each block leads off with an image followed by introductory copy that directs the reader internally for more information.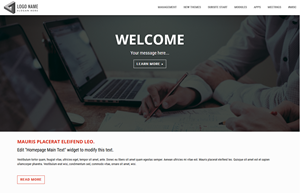 Breaking News features a "dashboard" presentation where content is intended to be constrained - with links to additional information. Integrated into the home page are both Breaking News and an optional live Twitter Feed. Also included are the member login and rotating banner module accessing the image gallery. The images will rotate automatically or can be prompted to move by selecting the arrow and each can be a link to content within (or without) the site. The images can further be linked to content within the site. Primary navigation is a drop down style. There is also a utility menu. Integrated "generic" images included royalty free for Conference, News and Membership. Two additional optional locations for client supplied graphics. These can be used for anything, for example paid sponsorship advertising. Interior pages contain a header graphic from the page properties. They also pull forward the optional additional graphics from the home page. There is right hand vertical subsidiary navigation that contain the next level of navigation and all of the links coincident with the immediate page.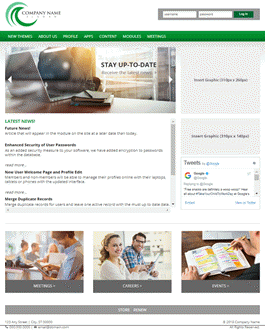 Social Media highlights your social media connections, including an optional live twitter feed that can also be included with all of your interior pages. All pages also feature a site search above the top navigation, member login and "join now" button. Ideally suited for lengthy home page copy, this design allows for content that flows down the page. The home page includes the rotating banner module. Royalty free graphic icons for navigation. Interior pages include a right hand subsidiary navigation.
Long Format is the ideal design for associations whose primary purpose for their web site is to promote their message. The long format home page allows you to include substantially your entire site on that landing page everyone sees. Included is fixed navigation (won't scroll off of the top of the page) as readers follow your message. All images and navigation icon graphics are included royalty-free. Also featuring a second, utility menu, at the top and optional integrated twitter feed. Includes two independent blocks of client controlled text. Interior pages include left margin subsidiary menu as well as primary and utility menus. Also included is a consistent footer with graphical links and notice information.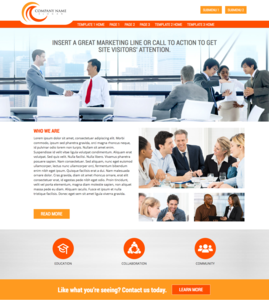 This design features a hard hitting entirely graphic home page presentation. No content required. This site emphasizes the rotating banner module coupled with navigational icons for fast hitting graphic impact. Streamlined login and social media links. Graphics and icons included royalty free. Navigation is also fixed, won't roll off the page. Interior pages include a fixed menu which features a subsidiary menu, also fixed, presented horizontally. Each page supports the unique header image graphic feature of content manager. Streamlined login and social media links pull through to all pages.