Gather Information from your public:
Included in I4A-MEMBERSHIP™
Forms Builder includes a powerful, intuitive interface for building complex and beautiful forms for gathering information from your membership and the public. It can be as simple as a contact us form to questionnaires, surveys, feedback, abstract submissions, you name it.
You can sell products with Forms Builder. It will do the arithmetic; extensions and summing. It's integrated with I4A-MEMBERSHIP™ e-commerce and accounting so the proceeds are in the bank and accounted for.
You can save your submissions to a database. This allows you to analyze the answers, export them to a spreadsheet and even broadcast an email back to respondents.
As always, Forms Builder can be protected from automated spamming type submissions with the latest "I am not a robot" feature.
Practically any form element can be included: text, text area, radio, checkbox, select and multi-select box. Where applicable, as in drop down, radio and check-boxes, you can pre-populate the possible responses. You can define whether or not a question is required. And, you can enter default answers.
It also has a number of unique fields including:
Email, which will validate that the email is properly formatted and supports the broadcast back to the submitter.
File, which allows the submitter to upload a document.
Country, which automatically is populated with your country list,
State, which is automatically populated with your state (or province) list,
Hidden, which allows you to include a question that is NOT displayed but is available to you to populate after the fact in the stored database of submissions, and
Decorative Text, which opens the WYSIWYG editor, allowing you to insert images, graphics and text anywhere you like for instructions throughout and a beautiful end product.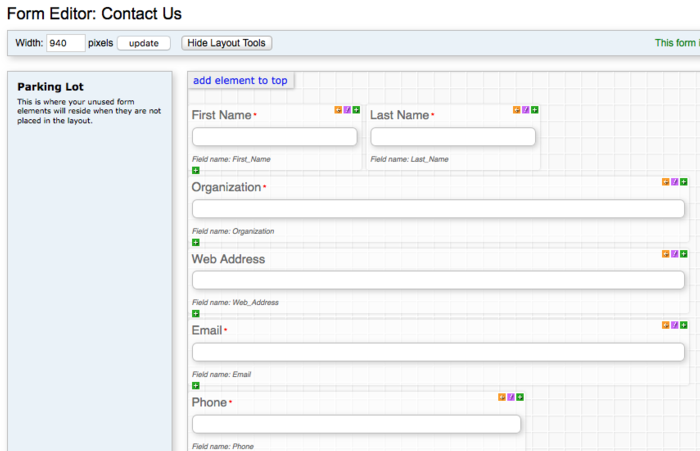 The layout interface allows you to easily add new form elements and format these anywhere you want. Insert before, in-between or after elements or above, below or between lines. You can define the size of a text or text area form element.
It's not enough to provide information TO your members and public, you also need to be able to obtain information FROM them. Forms Builder does this.