Target Your Email Marketing
Included with I4A-MEMBERSHIP™
Email marketing is INCLUDED in your MEMBERSHIP or ENTERPRISE license. No limit on the number of emails or email campaigns.
Email marketing is totally integrated with your database. Access ANY data. Ask ANY question. Combine databases such as membership, meeting registrations, store sales, in any combination.
Your campaign will immediately access the database at the moment it goes out. This way the campaign is based on the absolute, latest, up-to-date information.
Your campaign knows what day it is allowing you to re-use a single campaign on a recurring schedule. For example: assuming some portion of your membership expires each month and you want to send a notice to those expiring within 30 days, you need only one campaign scheduled to go out monthly. The system knows what today's date is and will automatically calculate the correct time frame. Campaigns can be scheduled in advance for a fixed future date, or a future recurring schedule.
Use the WYSIWYG editor to create and store beautiful templates for your email.
Personalize your outbound emails with ANY information contained in the database; name & address, membership type, expiration date, renewal amount, prior meeting attendance, etc.
Copy a campaign, including the template, with a single mouse click and then you can simply modify it to build an entirely new campaign.
WYSIWYG Editor and Personalization: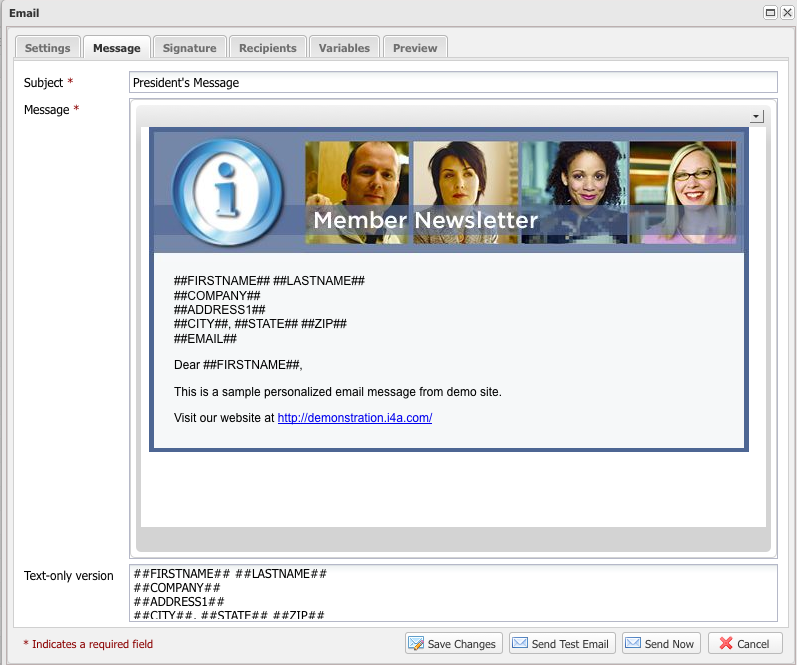 Review aggregate stats on click-throughs, unsubscribe and open rates.
Save your campaigns for re-use. Schedule them for a fixed future date or on a schedule.
Include an unsubscribe link to opt out messages which automatically updates the individual's preferences.
Campaign Statistics: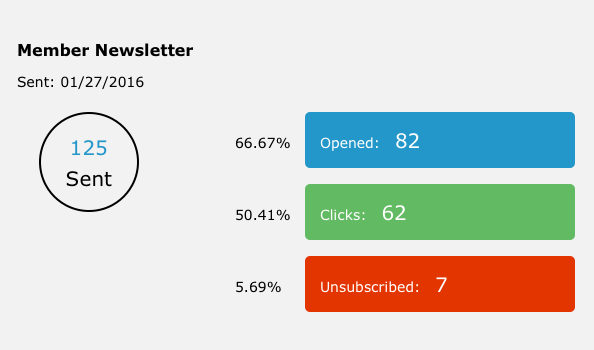 Set your own preferences:
html or text formatting,
"from" address,
"reply-to" address,
additional email address (staff),
alllow unsubscribe,
override unsubscribe settings.
Settings: